Scones are one of our top gluten free snacks at our house. For some reason, scones get the reputation of being hard to make, but the truth is they couldn't be easier. These gluten free blueberry scones are great with a cup of coffee, tea, or hot chocolate. Sometimes I even eat them for breakfast!
/image
Easy Gluten Free Blueberry Scones
This post may include affiliate links. As an Amazon Associate I earn from qualifying purchases.
These scones couldn't be easier to make! The hardest part may be shaping the dough if you are new to baking, or gluten free baking.
Gluten free dough is more delicate than its glutenous counterpart. If you're just entering the world of gluten free, making these scones is a great first step. They allow you to get a handle on how this gluten free baking stuff works, since this recipe is so forgiving.
Don't want to mess with the dough? No worries, they'll still come out fantastic if you use the ultimate scone making hack, which is scooping them onto your pan with a muffin scoop.
How to Make Gluten Free Scones
There's a few simple ingredients in these gluten free blueberry scones.
That's it, all classic baking ingredients you probably already have on hand, which is why scones are so perfect as a gluten free snack.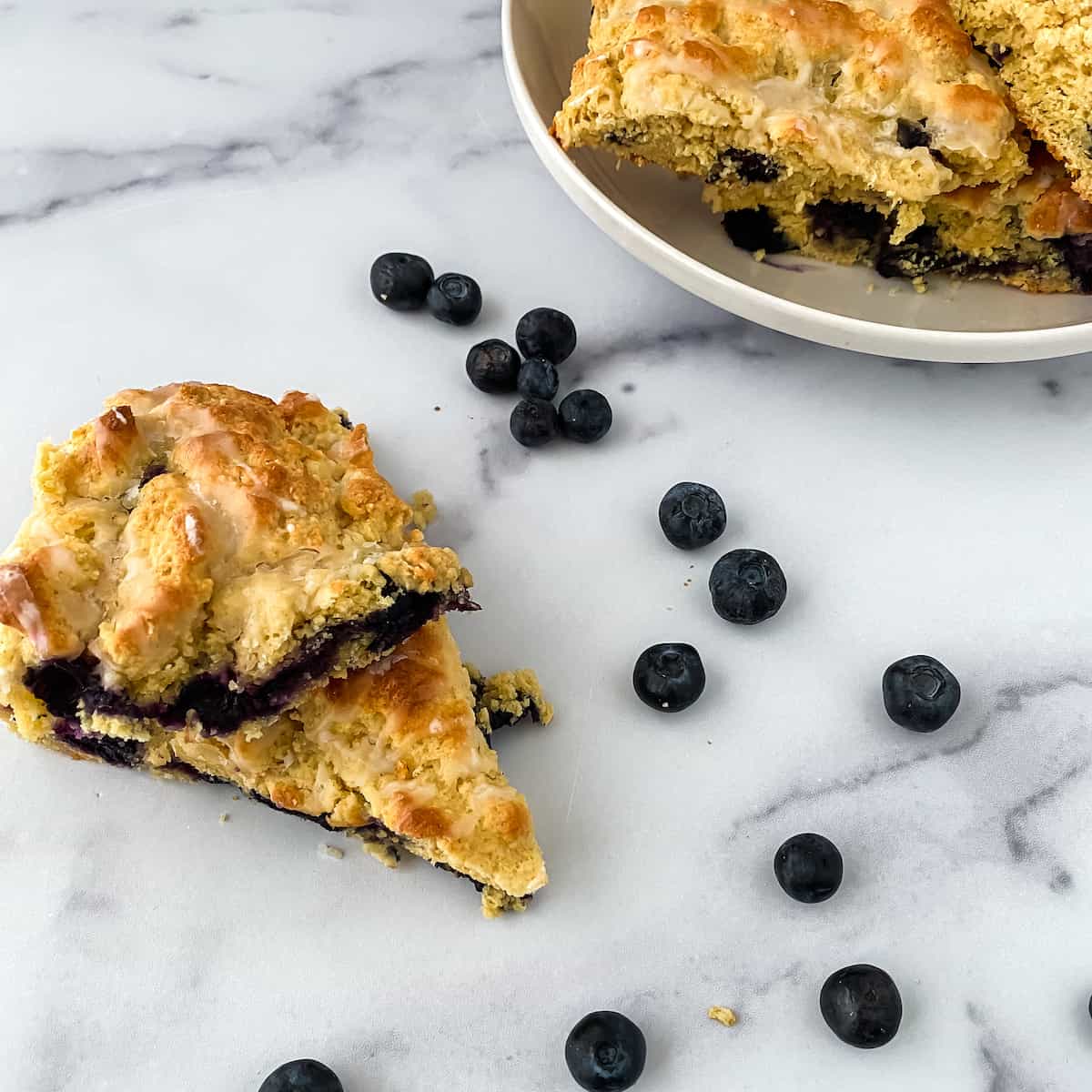 Start by mixing together all of your dry ingredients, including the lemon zest.
I love citrus zest, so I have a fancy zester that is my favorite thing ever. You can also use a grater, zester, or just very thinly slice the skin of the lemon.
Then, make sure your butter is cold and get out that grater. If you don't have an old school box grater, I encourage you to grab one, becuase believe it or not, they are super versatile.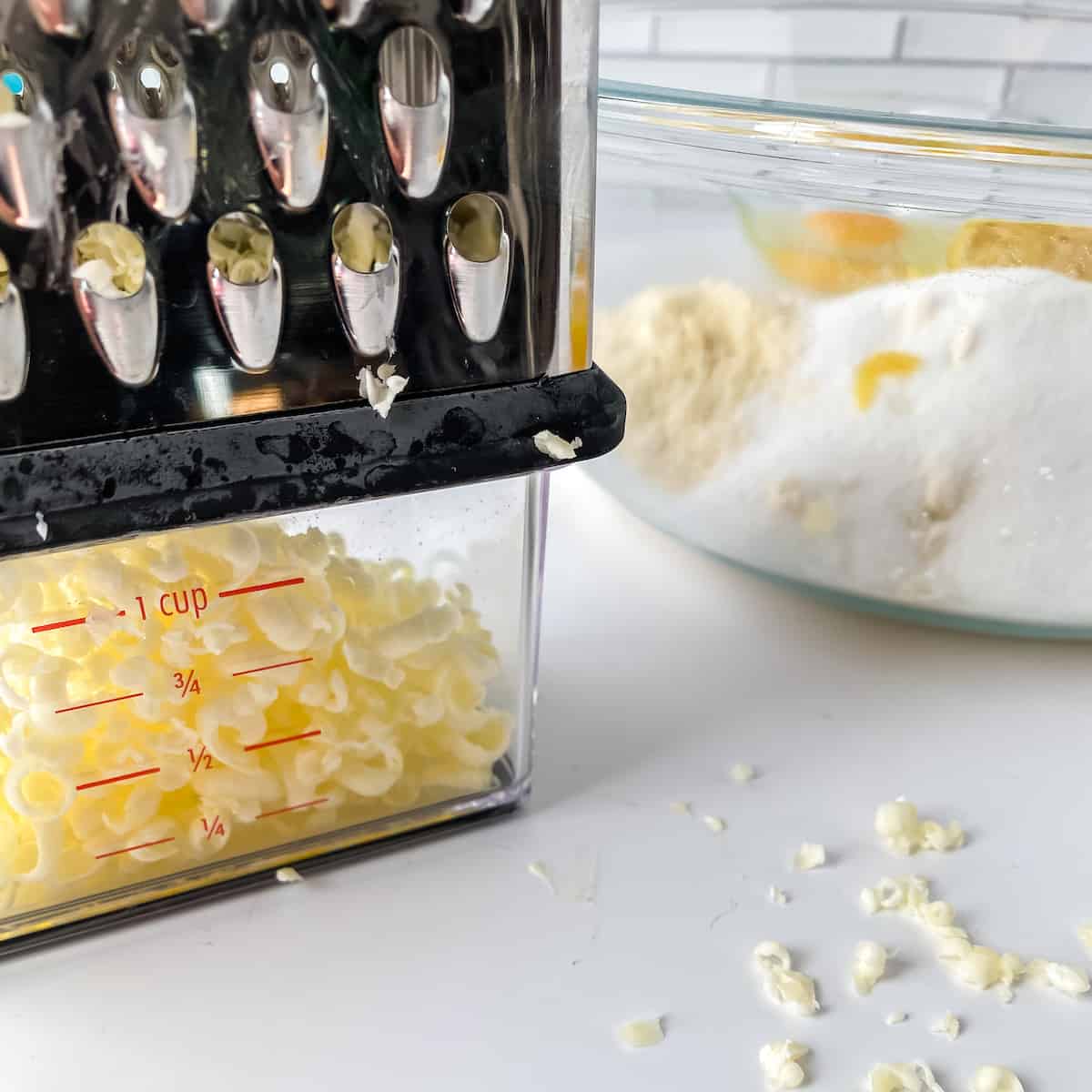 You can also dice your butter fienly - the firmer it is the better for working with it.
Then, combine the butter and dry ingrdeints, before adding the buttermilk, egg, and vanilla.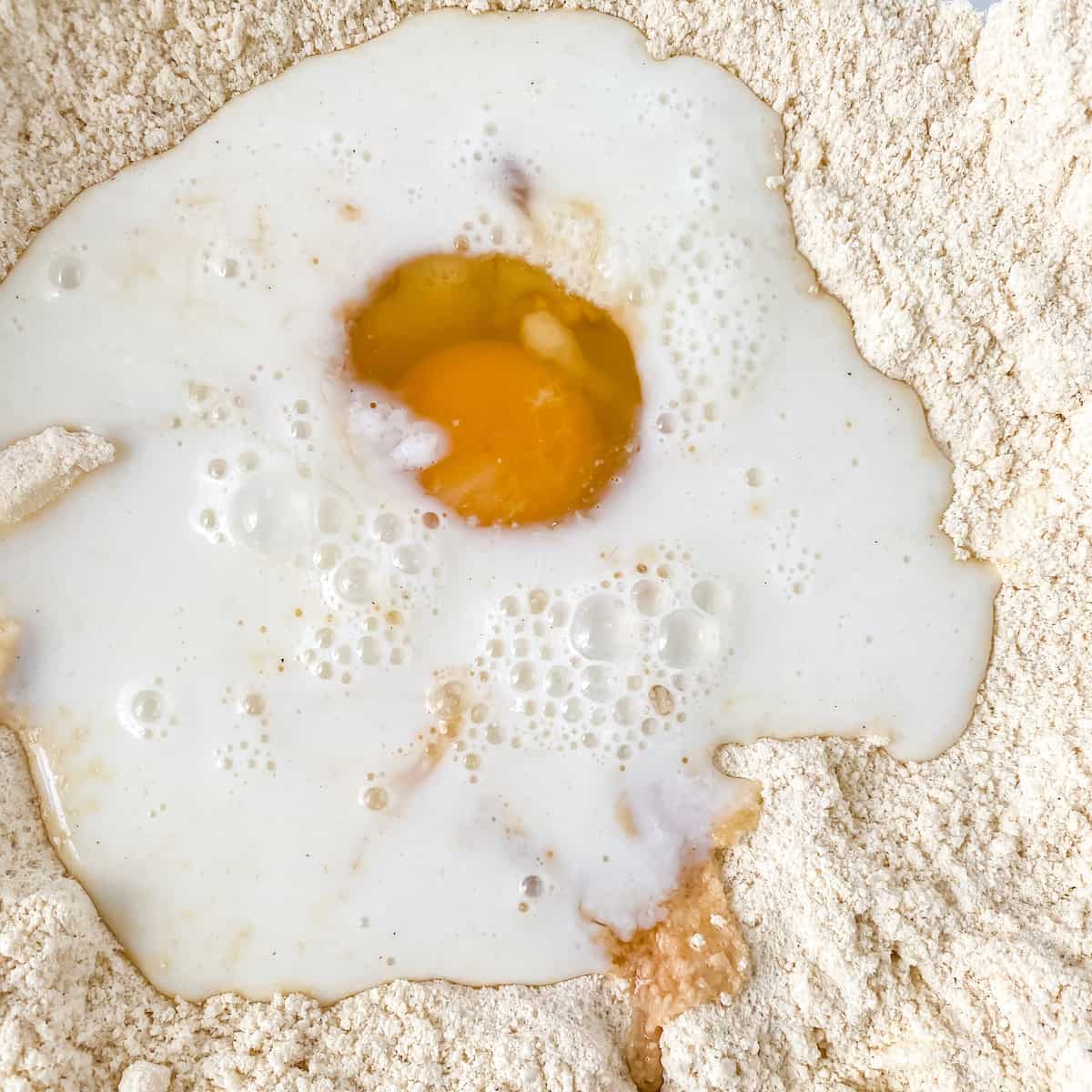 Mix until just combined, and add your blueberries mixing gently. Blueberries don't like to be mixed, so if some break and seem like they are bleeding, don't worry about it, it is par for the course.
Now scoop the dough into a center of a parchment lined pan, and shape it like a circle.
Now, we're going to make indents for eight slices of scones, but not cut them all the way through, this will make them easier to seperate later.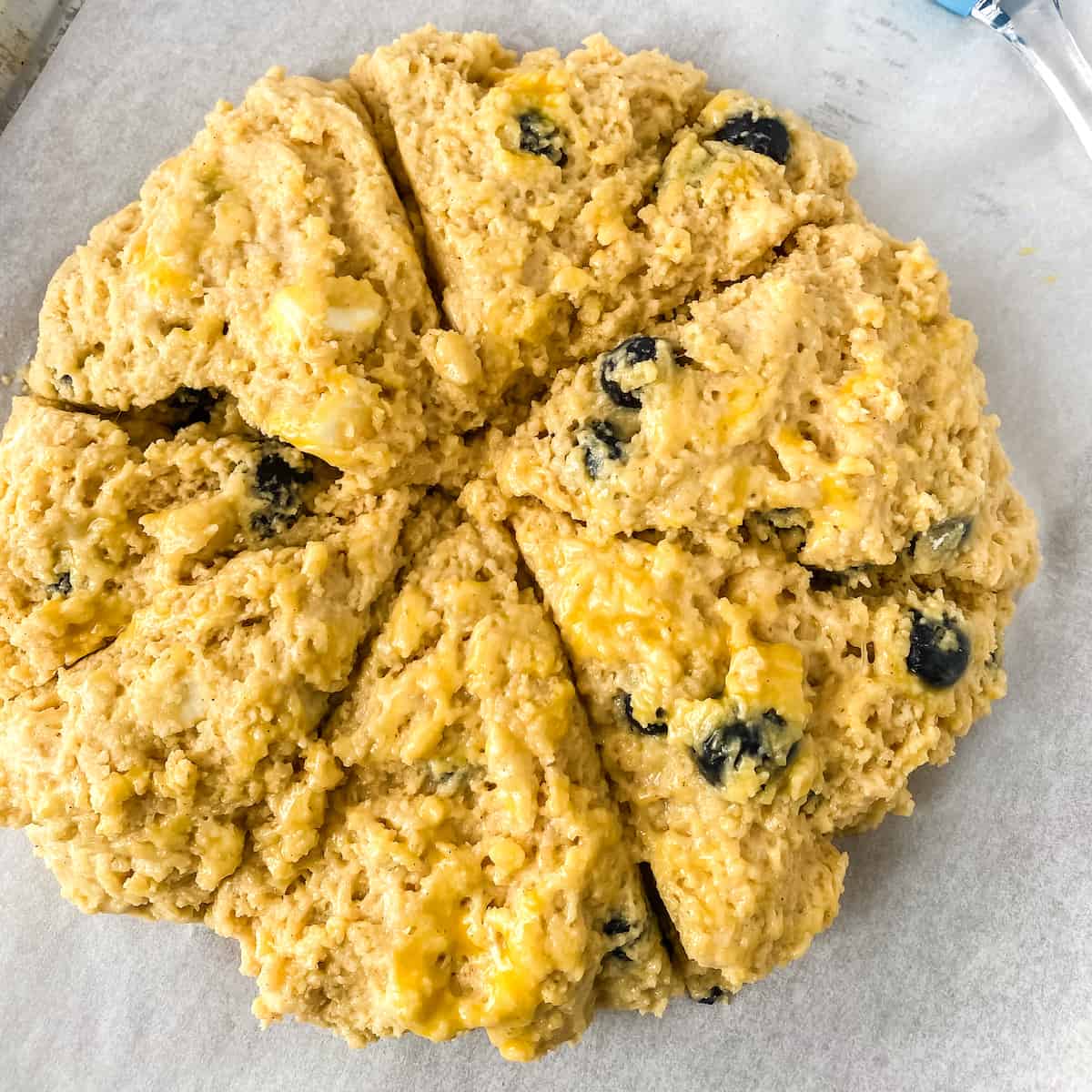 You could cut them all the way and bake them indicvidually, but if you are new to gluten free baking, you may want to bake it as a whole, the dough is very delicate and takes some getting used to.
Now, brush your scones with either egg wash and milk, and bake for 12-15 minutes at 400F.
While your scones are baking, work on your lemon glaze. Mix ½ cup of powdred sugar and the juice from ½ of a lemon. That's it!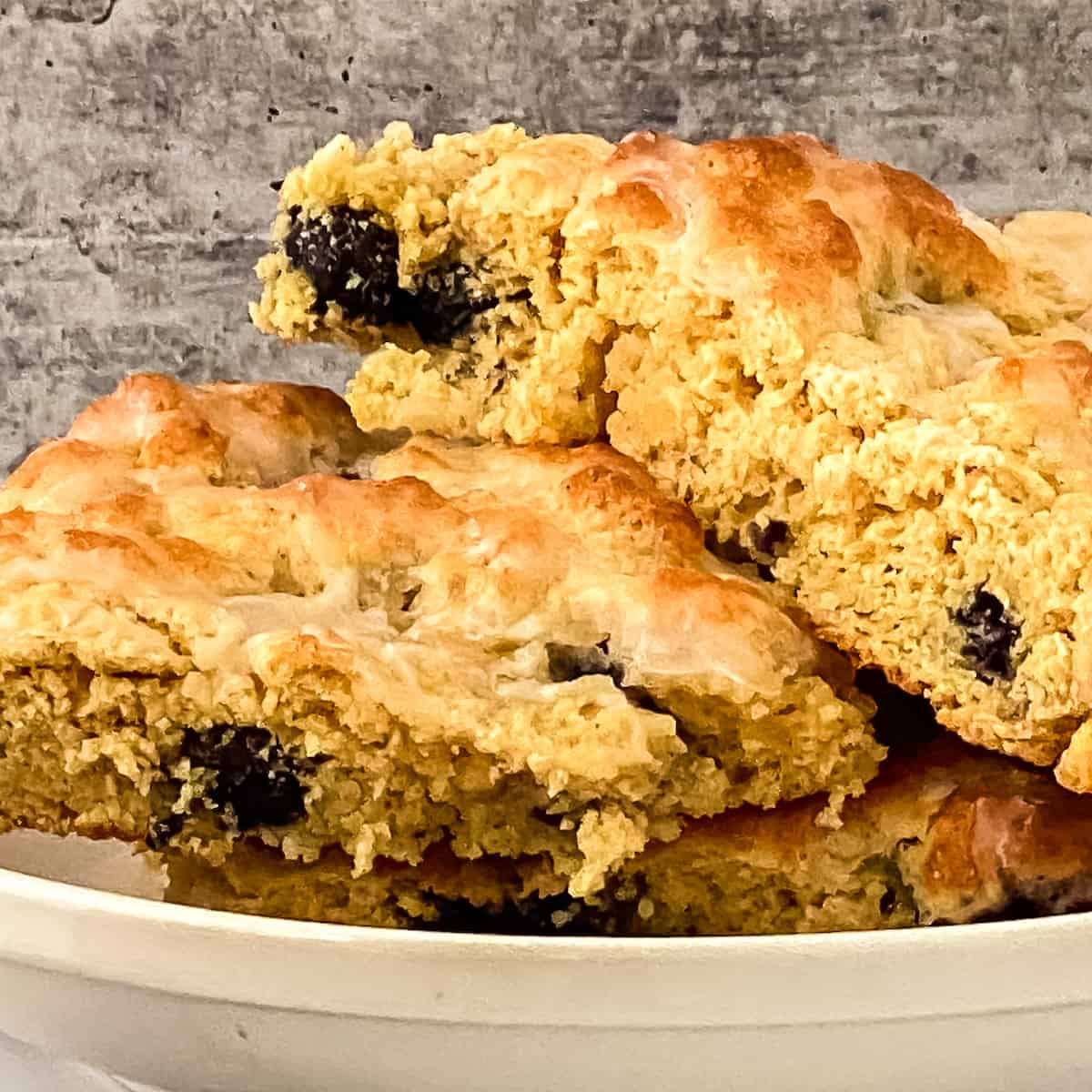 Once your scones are done, allow them to cool a bit before cutting them, and enjoy!
How to Make these Gluten Free Scones Vegan & Dairy Free
When I started my gluten free and allergy free baking journey, scones were one of my first things I started to make. For some reason, scones just come out so well no matter what you do to them.
If you want to make these gluten free blueberry scones vegan and dairy free, it is pretty simple to do.
Swap butter for coconut oil or dairy free, vegan butter
Swap buttermilk for your favorite dairy free milk (we like So Delicious Coconut Milk Beverage) plus one teaspoon apple cider vinegar
Swap egg for ¼ cup extra dairy free milk
That's it. Follow the same instructions as you would normally, except for the butter steps. Make sure your cocnunt oil is room temperature, and just sort of mash it into your dry mixture.
If you want the full run down on how to make gluten free, egg free, dairy free, but still delicous scones, check out this allergy friendly scone recipe from Wright Things.
Now, let's take a look at the recipe!
Gluten Free Blueberry Scones
These gluten free scones are one of our go to snacks and treats! This recipe is so simple, and is the perfect way to enter the world of gluten free baking!
Ingredients
For Scones
½

cup

cup diced or shredded very cold unsalted butter

3

cups

Gluten Free All Purpose Baking Flour

⅓

cup

granulated sugar

2

tablespoons

baking powder

½

teaspoon

teaspoon salt

1

egg

1

cup

blueberries

Zest and juice of one lemon

1

teaspoon

vanilla

⅔

cup

buttermilk

1

egg + 1 teaspoon water

egg wash or 2 tablespoon milk for egg wash
For Glaze
juice of one half lemon

½

cup

powdered sugar
Instructions
Whisk together dry ingredients: gluten free flout, granulated sugar, lemon zest, salt, and baking powder. If you are using a gluten free baking mix versus a gluten free flour, check to see if the baking powder is already in it.

Dice or grate very cold butter.

Add diced butter and coat with the dry mixture.

Create a well and add butter milk, an egg and vanilla.

Mix until just combined.

Add blueberries. Mix gently until incorporated, your blueberries may break, but that's ok!

Spray a parchment lined baking sheet with non stick baking spray.

Add mixture to the center and form into a circle. You can pat into a circle shape with your spatula, the dough will be sticky!

Using a knife or bench scraper, make eight indents to make eight scones. Do not cut all the way through, since this will make the dough eassier to work with.

Bake in 400F oven for 12-15 mins or until golden brown

While baking, combine juice of one half lemon and powdered sugar to make the glaze.

Remove from oven and allow to cool for 5-10 minutes.

You may drizzle the glaze over the baked scones before cutting, or drizzle individually.

Cut into eight pieces, this should be easy because of the indents you made!

Enjoy!
Recipe Notes
No buttermilk? No problem. Just add 1 teaspoon of apple cider vinegar to the milk mixture and allow it to sit for five minutes before using. You can also use lemon juice for a similar effect.
You can also cut the scones all the way through before baking, but be cautious since this gluten free dough is very soft, and now what you may be used to using.
Want to make this recipe dairy free or vegan?
Swap butter for coconut oil or dairy free, vegan butter
Swap buttermilk for your favorite dairy free milk (we like So Delicious) plus one teaspoon apple cider vinegar
Swap egg for ¼ cup extra dairy free milk